Well the last couple of days have been spent thinking long and hard about the changes I want to make in my lifestyle, and don't worry, they are all positive. I went to pole on Wednesday night, even though I didn't feel like it at all after the day I had had, but I am so glad I did. I completely forgot about all the crap going round my head and focused on working out. It was really great, the most I have enjoyed a pole session so far. When I came home, I had a chat to my friend Phil on Skype – he is a real fitness guru and was trying to get through to me before about the fact that it isn't about dieting and the number of the scales, it is about fitness and size of your body. You can't do too much exercise, providing you fuel your body right with 'clean' foods. So, after this conversation I opened a tumblr account. Phil said that there are so many blogs on there which are known as 'fitblrs' – reblogging motivational and inspirational pictures about fitness, weight loss the healthy way and clean eating. I felt really motivated, so much so that I went to tesco and stocked up on some of these 'clean foods' (check out this receipt, seriously impressed with what is in my fridge right now);
I'll let you know how it goes but I am really mindful that I MUST stay healthy and try not too worry too much about the food that is going in my mouth (quantity wise) and the numbers on the scales. On Thursday morning I finally got up early and went for a 10 minute run before work (I say finally because I have been meaning to do it all week). I attached Hogan on a lead to a belt around my waist and he ran along side me which he loved. When I say run – I tried to do interval training, as recommended by Phil, so I walked for 2 minutes, then ran for 1 minute, then walked for another 2 minutes, then ran for 1 minute, then walked for another two. That was all I did, but I literally thought I was ready to collapse. My lungs were hurting and I couldn't breathe as deeply as I wanted to (I'm guessing because I'm unfit as I have never suffered from asthma or anything like that), and when I got home I was sick. I think it was probably the shock of it! I know I need to keep going and although it hurts to push myself, it will be worth it in the end.
Last night, I went on another date with Pete. He chose the venue this time, as I wanted to see what he would choose. He chose a quiet country pub about 15 minutes from my house, with lots of character and a roaring log fire in the background… the perfect place for a date and I was seriously impressed by his choice. I had cheesy garlic bread, followed by a meal called Hunters Chicken (chicken breast, bacon and cheese covered in BBQ sauce) and chips, then sticky toffee pudding with custard. I am glad I can allow myself to go and eat whatever I want, even though I want to lose weight. It means I have almost beaten the obsession, and although the tendencies will always be there, I am in control of them.
By the time we had finished the meal, it was only 8pm, so I asked Pete if he would like to come back to my cottage. He said to me he would like that very much, but only if I was comfortable with it. He followed me home and we got settled on the sofa and started chatting. Initially, my thoughts on Pete were that he was good looking, but very shy and socially awkward. As I am getting to know him a little better, he is opening up to me and changing into a completely different person. He is very, very thoughtful and seems to be very kind and genuine.
As we were sitting on the sofa I noticed his body language was really nervous and he was clenching his hands. I asked him why he was nervous, and as he was explaining how he felt this gave me an opportunity to be a little more open with him about myself and the fact that I can suffer from social anxiety in some situations and the way I deal with it. I wanted him to feel that I understood where he was coming from. It then led on to me being able to talk about other things, during which I made the decision to show him my arm. Mindful of the fact Chris (the last 'date') went weird on me soon after I had disclosed the fact I had scars on my arm (remember the fetish thing?) I wasn't sure whether it was the right thing to do, but it did feel, inside, that it was right. I showed him the scars, and explained to him how they had happened (brushed over a lot of stuff and avoided using the term 'Borderline Personality Disorder' by saying it was an episode of deep depression caused by a bad break up). I know this isn't entirely true, but there is a time and place to go further into details and on the third date isn't it. Before I told him, I looked him in the eye and told him that if what I was about to explain to him made him feel as though he didn't want to pursue a relationship with me, I wanted him to be honest with me, and walk away, to which he agreed he would.
After I had told him, he told me that it didn't make any difference to him, apart from the fact that he was very upset that I had to go through a terrible time. He said that he could see I was a very strong person now, and that if I happened to start feeling this way again, he hoped, if we were to progress things further, I would be open and talk to him about it. This is in direct comparison to Chris, with him I felt as though I could never go to that place again, and If I did, I would have to hide it. With Pete, I feel as though if something happens again, which I am seriously hoping it won't but you know what BPD is like, he will be there to support him, that is, if I want him in my life.
When he said that, I just wanted to kiss him, so leant forward and started to kiss. He was really gentle and caressing, and we continued until we lay down on the sofa and just hugged. It was really nice to have full body contact, something I crave so much. I get hugs from the friends in my life, sometimes long hugs like this, but I AM mindful that it isn't entirely appropriate from anyone outside of the situation, even though there is no sexual/lesbian element to it. I actually was so relaxed I think I briefly fell asleep, and I think he did too. It was no nice that he had no roving hands, a real gentleman, such a breath of fresh air.
He left at about 11pm and text me to let me know he had got home safe. He really isn't the normal 'type' I go for, and at first I was worried that I would hurt him, then I realised that yes, maybe the 'old' me might hurt him, but not the person I am now. I am completely different, more thoughtful, more caring, a lot quieter and a lot less promiscuous – maybe he is just what I need.
On another note, I went to Tesco today and bought two kettle bells (these ones range from 3kg to 7kg):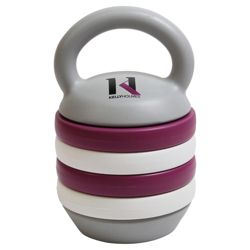 As reccomended by Phil, apparently they are really good for fat burning!! And also, a Zumba set:
Which I am going to try tonight, so I'll let you know how that goes!
Anyway, all seems to be 'good' here for now. I have my assessment with Psychological Therapies on Tuesday morning at 9.30am, to discuss entry to the DBT group. I get to find out if they will accept me (even though the consultant psychiatrist has already recommended me) and how long the waiting list will be, so wish me luck, as unfortunately I do believe a knock back at this appointment could set me back quite a way, despite how strong I am feeling.